History of St. Paul's Evangelical Lutheran Church & School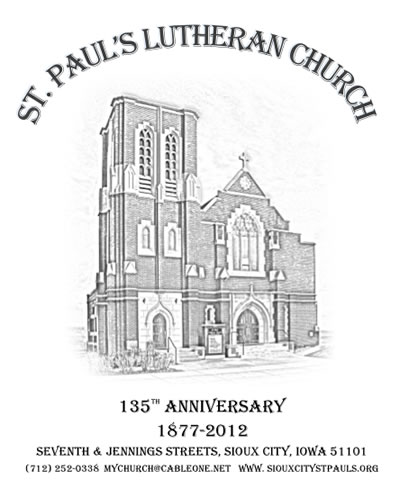 The first German Lutheran congregation met in Sioux City in 1877 and was incorporated on January 8, 1879. The first church building was located at 613 Jackson Street and was purchased from Emmanuel Evangelical Church for $1,300. It was dedicated in October, 1879. The first pastor and his wife died of typhoid fever in 1882 and the congregation became inactive for a period of time.
A seminary student from Springfield, Illinois pulled the congregation together and in 1883, the congregation incorporated as St. Paul's Evangelical Lutheran Church. By 1901, the growth of the church necessitated a new building and it was constructed on the site at a cost of $5,791.14.
In 1912, the present church property on Jennings Street was purchased. The first parsonage was built in 1914. Talk of a new church began and on August 7, 1927, the cornerstone was laid. Dedication took place on January 22, 1928.
A school has always been part of the ministry at St. Paul's. The first schools were maintained in the church basement. Two members of the congregation offered to build a separate building if the church would build a home for the teacher. In 1915 the new building was dedicated.
German services were conducted until 1942, when the final German sermon was preached and the transition to English was completed.
Over the years, additional property was purchased so that current ownership is nearly a full block. Additional classrooms, a fellowship hall, church offices and a new organ have been added.
St. Paul's established or assisted in the organization of several daughter congregations. Click on the congregation to view their website:
Concordia, Sioux City
Bethany, Sioux City
Faith, Sioux City
Peace for the Deaf, Sioux City
With the Lord's blessing and many dedicated Christian workers, St. Paul's will continue for many, many more years to come.